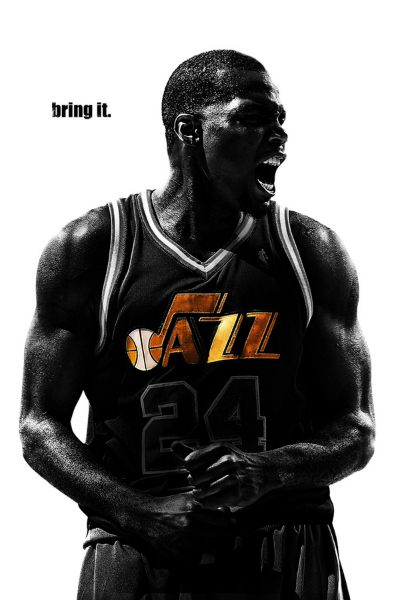 (Today's entry brought to you by an obscure reference to one of the least tolerant front men ever to own his own punk rock record label)
In case you've been hiding under a rock for the last week, the NBA lockout is all but over. Preseason ball begins with an absolutely riveting DC/Philly matchup on December 16. Jazz fans get to wait until 8:00 P.M. MST on Monday, December 19, to catch a glimpse of what the season might hold under Coach Ty and his three-headed dog (see below) against Portland. We see the Blazers again in SLC on the 21st, and that's it for the "pre-season."
Fun fact about Portland, I went to the Blazers-Nets match-up last year in Newark and yelled at Wes to go back to the Jazz. He totally looked at me and shook his head either in disgust or, more likely, indicating his approval to do exactly that.
Much like most of the former NBPA itself, I haven't been doing much actual basketball-related work since the Mavs slapped the Lakers and the Heat around a few months ago. Fact is, I don't know enough about the subtleties of the game to have been making serious predictions about where I thought the Jazz would be at the (delayed) start of the season. If you're like my cousin, you probably don't need to read any further. But if you're in my shoes, having been moderately confused by the lockout because both sides were dominated by maddening asshattery, and letting that confusion glaze over your desire to make contingency after contingency for predicting how a new CBA might affect the Yutah Yazz, let's work things out together.
First things first: Enes Kanter. Hard to think of a good nickname for a guy whose name rhymes with "penis."
Second, the Jazz court is a little front-heavy right now. Evans, Favors, Hayward, Jefferson, AK, CJ, and Millsap are all currently tagged as forwards on the Utah roster and will be battling for minutes. At the 5, we have Elson, Fes, Dong-Joke and Memo (along with Al "Duality of Man" Jefferson), leaving the backcourt with 5 guards (Raja, Harris, Ronnie and Earl, and draft pickup Alec Burks) to the frontcourt's 11. Obviously not all these players are under contract, and it seems inevitable that Memo, barring his having implanted T-1000 ankles and knees over the offseason, will get paid to walk under the new CBA's one-time amnesty provision. In order to get the team down to 11-13 players, obviously some of these guys aren't going to be suiting up once regular season play begins on Christmas.
The obvious-according-to-the-internet solution is trading Paul Millsap. He had a monster year in 2010-2011 and would be an asset to nearly any team that doesn't habitually spend over the salary cap, and the Jazz could theoretically live without him. It's hard to think of a better trading piece than Millsap, and the Jazz are still in need of a real 2-guard (or, at the very least, more than one shooting guard on the roster--AK doesn't count).

Yet losing Millsap creates a big problem for the Jazz, particularly if they decide to drop Memo and let Fes go. That would leave the Jazz with: (A) a rookie and Francisco Elson, who last season was looking only about a half-step faster than a 54-year-old Mark Eaton, at center; (B) Jefferson and Favors at power forward; and (C) Evans, AK, CJ, and Gordon Hayward scrambling for small forward minutes. True, CJ, Hayward, and AK can all play a 2-guard in a pinch (Miles in particular), but there's no sense in getting dogged down in the 2-3 position logjam the Jazz have allowed to build up. More important is that without Millsap, the Jazz have a shaky pair of players at 5, neither of whom can spread the floor (prove me wrong, Johnson Kanter), and only two other true big men even available in Jefferson and Favors. Millsap might be considered undersized for a power forward, but at 17 points and 8 boards a game, he seems to be working out most of the time.

Given the size of the Denver (current roster lists 11 players over 6'8") Lakers (current roster lists 8 players over 6'8"), the Mavericks (7 players over 6'8"), Portland (7 players over 6'8"), and OKC (7 players over 6'8"), the Jazz would be rolling some serious Western Conference dice by dropping Paul to pick up another guard. As the roster currently stands, the Jazz employ 10 players standing at or above 6'8". Losing Memo, Fes and Millsap drops us down to 7 bigs, one of which is Gordon Hayward, who might actually be 6'8" only when he wears platforms. So what are the Jazz to do? Trust in Rigby and O'Connor? They generally--generally--make the right moves. But I'd like to see a starting 5 with Millsap, Favors, and Jefferson and perhaps a flash of all the lessons Ty Corbin has learned from losing games to Phil Jackson's triangle offense.

Also, I just got my autographed Millsap jersey framed. They can't trade him before I even hang the damn thing up.

My third point should be some ruminations on what to do with the stack of small forward/shooting guards we have that don't really have a handle on playing either position consistently well, but I think I'm just going to say this: I have been a stalwart AK defender since Deron Williams made everyone realize exactly how much money was getting pumped into the skinny Russian. And as recently as a few weeks ago I was hoping the Jazz would lock him back up for another 4 years at a much more reasonable salary. But now I'm rethinking that strategy. Evans has way more energy and Hayward strikes me as having the potential (read: work ethic) to show Andrei a thing or two about consistency. Losing AK frees up a spot to bring in a pure shooting guard. It seems foolish not to do it, or at least to sign him to anything longer than a year or two. I will miss his intense love for the filet-o-fish once he's gone though. C'est la vie.

Fourth and finally, as a reward for making it to the bottom of my insufferable nonsense, I remind you that the Jazz are hosting a free scrimmage at the ESA on Saturday, 12/17. I'ma be there, come and tell me how wrong I am and I'll either buy you a beer for being a good sport or pour mine all over your girlfriend. Unless you're a woman with a girlfriend (that link is totally SFW), then I'll illustrate my serious commitment to supporting your ability to live your own life. Just kidding, I'll pour my drink over anyone if they insist.